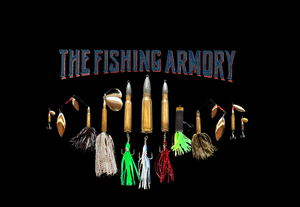 Handmade Bullet Lures for Salt & Freshwater Fishing
Tournament winning lures using real bullet shells & casings. Our lures not only look awesome, but are extremely productive consistently catching quality fish.  We've taken 1st and 2nd place in the same big fish lake tournaments and won jackpots up and down the West Coast. If you're chasing trout in the Sierras, Pike in the Midwest, big bass or ocean sportfish, we have a fun and lethal lure for you.
Check out our Social Media & Fish that Bit the Bullet page to see the proof!
Built by Fisherman for Fisherman
As a lifelong fisherman I have fished all over the world and tried numerous techniques, but I still don't know it all. That is why I team up with top anglers and learn about their target species and techniques. All the lures I make aren't just great novelty gifts, they're also great lures for catching fish.